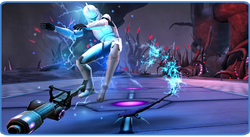 This pint sized assassin droid once belonged to the Umbaran Militia. With a little ingenuity and some spare parts, a friendly version can be assembled!

—Official description
Amelie is a Companion in Clone Wars Adventures, based on the Umbaran Millicreep, that can only be obtained by completing the Umbaran Millicreep Collection on Umbara. The pieces of the collection can be earned by defeating Millicreeps and Umbaran forces in the Battle of Umbara Combat zone. Once the collection is completed once, like many other collections, it grants

2000 upon any other completions. If clicked on, the companion will electrify and knock down either a nearby player or the owner. There are no attachments available for this droid yet. Amelie will give the player a Critical Damage Up buff when in combat zones.
External links
Edit
Ad blocker interference detected!
Wikia is a free-to-use site that makes money from advertising. We have a modified experience for viewers using ad blockers

Wikia is not accessible if you've made further modifications. Remove the custom ad blocker rule(s) and the page will load as expected.