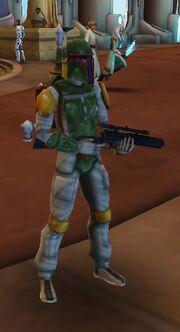 Redeem Card Commander loot cards to get Boba Fett's equipment

— Promotional description
Boba Fett is an outfit set, based on the bounty hunter Boba Fett from The Empire Strikes back, that was released as a loot card prize for Series 1 Card Commander Booster Packs. Each loot card unlocked one item from either the Boba Fett set or the Kashyyyk Furniture set. So far, Boba Fett is the only Classic Gear set that is still obtainable, and was never removed during the retirement of the Kyle Katarn, Han Solo, and Lando Calrissian outfit sets.
Quarzite Boba Fett
Edit
Boba Fett may be young but that doesn't mean he isn't capable of fulfilling his father's legacy!
-Store Description
</gallery>
External links
Edit
Ad blocker interference detected!
Wikia is a free-to-use site that makes money from advertising. We have a modified experience for viewers using ad blockers

Wikia is not accessible if you've made further modifications. Remove the custom ad blocker rule(s) and the page will load as expected.