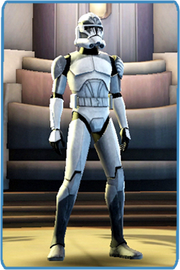 A valued member of the Wolfpack, Boost has made it through a number of tough scrapes in this battle-tested armor.
Boost is a Clone Trooper and a notable member of the squad, Wolfpack. His outfit is available for purchase with Republic Credits.
Boost's armor is the first Phase II Clone Trooper outfit, it was released on October 7, 2011.
Outfit set
Edit
This outfit set requires a Jedi Membership to purchase
Boost's Armor
3500

Boost's Boots
750

Boost's Gloves
750

Boost's Helmet
3000
Ad blocker interference detected!
Wikia is a free-to-use site that makes money from advertising. We have a modified experience for viewers using ad blockers

Wikia is not accessible if you've made further modifications. Remove the custom ad blocker rule(s) and the page will load as expected.