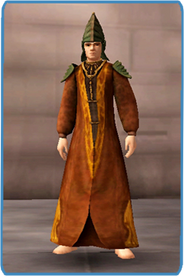 Roll like a boss through the Jedi Temple in this Boss Lyonie gear.
-Store Description
Boss Lyonie is an outfit set that was added on September 30, 2011. It is based on the outfit worn by Gungan Boss Lyonie who appeared in the episode Shadow Warrior. The outfit consists of a robe with varying shades of brown and a headress.
This outfit set requires a Jedi Membership to purchase.
Ad blocker interference detected!
Wikia is a free-to-use site that makes money from advertising. We have a modified experience for viewers using ad blockers

Wikia is not accessible if you've made further modifications. Remove the custom ad blocker rule(s) and the page will load as expected.