Cad Bane is a Bounty Hunter outfit set that was released with the launch of Clone Wars Adventures. This outfit was based on the bounty hunter Cad Bane.
Cad Bane Holoprojector
Edit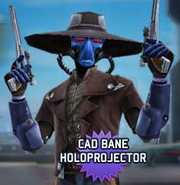 The Cad Bane Holoprojector is a Holoprojector that allows players to appear as the bounty hunter Cad Bane for a short period of time, and is the third Holoprojector available for purchase with Republic Credits. Unlike other Holoprojectors, most actions (such as "Laugh" or "Point") can be used with this Holoprojector.
Cad Bane's Fugitive Outfit
Edit
External links
Edit
Ad blocker interference detected!
Wikia is a free-to-use site that makes money from advertising. We have a modified experience for viewers using ad blockers

Wikia is not accessible if you've made further modifications. Remove the custom ad blocker rule(s) and the page will load as expected.