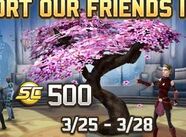 The
Cherry Blossom Tree
is a
furniture
item that was added to help raise money for the American Red Cross, so that it could assist in the recovery of Japan's earthquake. Each Cherry Blossom Tree bought donated ten dollars to the Red Cross. It was only available for a short time March 25–28, 2011, making it one of the rarest furniture items in the game. It can also be crafted and requires 40 Gold Ninites, 1 Tungsten Sheet, 10 Aluminium Bar, 16 Neuranium Bar and 20 Zinc Bar.
Furniture Set
Edit
Cherry Blossom Tree -

500
Ad blocker interference detected!
Wikia is a free-to-use site that makes money from advertising. We have a modified experience for viewers using ad blockers

Wikia is not accessible if you've made further modifications. Remove the custom ad blocker rule(s) and the page will load as expected.