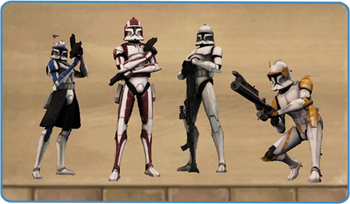 Decorate your homes with these decals and all your friends will know which clone troopers you'd proudly follow into battle
The Clone Trooper Decoration Pack is a furniture set. It consists of two-dimensional cut-outs of various clone troopers that can be placed on walls or placed upright. It is the second furniture set to feature characters from the series, the first being the Republic Hero Decoration Pack.
Ad blocker interference detected!
Wikia is a free-to-use site that makes money from advertising. We have a modified experience for viewers using ad blockers

Wikia is not accessible if you've made further modifications. Remove the custom ad blocker rule(s) and the page will load as expected.