'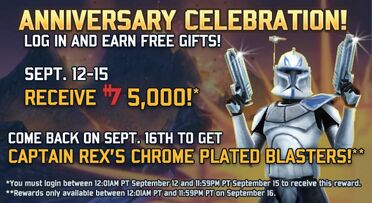 '
Clone Wars Adventures' First Anniversary
took place on September 16, 2011, alongside the premiere of Season 4 of the Clone Wars television series. During the celebration, players had the opportunity to receive bonus items and participate in emissary
events
.
Bonus items
Edit
By logging in on September 16, 2011, players received the chrome blaster pistols, Vigilance and Negotiator as a gift.
By logging in at any time between September 12–15, players received a free

5000.
Website schedule
Edit
| | |
| --- | --- |
| 9/12 - 9/15 | If you login between these dates, you will be granted 5,000 credits. You will only be granted the credits once per account. |
| 9/16 | Get ready to receive Captain Rex's™ chrome plated blaster, the Vigilance™. This item will be granted to you just for logging in! |
| 9/16 | You have one pistol, why not the other? Top-up your Station Cash™ today and you will get the Negotiator™. This is Captain Rex's™ second chrome plated blaster! |

If that isn't enough for you, we have a whole bunch of fun events planned over the course of the week. Make sure you get to participate in these fantastic events!
| | |
| --- | --- |
| Trivia | Answer some trivia questions, get a chance to win rewards! |
| Hide and Seek | If you can hide... you can seek! |
| Re-Enactment Events | Sign up to present an in-game skit based on the Clone Wars™ television series! |
| Speederbike™ Racing | Get ready to crank up your engines for some Speeder Bike™ racing! |
| Lightsaber™ Duels | Test your awesome Lightsaber™ skills against other players. |
| Dance Parties | Need to take a breather from all this exciting stuff? Not yet! We got some dance parties planned that would even wear a Droid™ out! |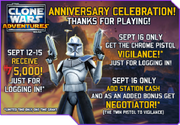 Originally, the player was required to add Station Cash to their accounts to receive Negotiator, however this idea was cancelled and it was given freely along with Vigilance.
External links
Edit
Ad blocker interference detected!
Wikia is a free-to-use site that makes money from advertising. We have a modified experience for viewers using ad blockers

Wikia is not accessible if you've made further modifications. Remove the custom ad blocker rule(s) and the page will load as expected.