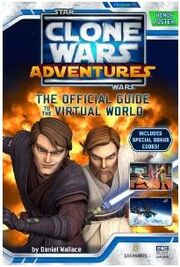 Clone Wars Adventures: The Official Guide to the Virtual World is a book relating to Clone Wars Adventures that will be released on September 29, 2011. It will most likely be a guidebook with walk-throughs, tips, and descriptions on mini-games and housing. The front cover claims that promotional codes will be included in the book as well as a bonus poster.
Promotional Code
Edit
The code redeems 300 boost points for mini-games.
Ad blocker interference detected!
Wikia is a free-to-use site that makes money from advertising. We have a modified experience for viewers using ad blockers

Wikia is not accessible if you've made further modifications. Remove the custom ad blocker rule(s) and the page will load as expected.