The
Clone Wars Adventures Trading Card Game
is a trading card game based on the
mini-game
Card Commander
from
Clone Wars Adventures
. Currently, Card Commander TCG booster packs and boxed sets can be found at most Target stores in North America in the trading card section. The first booster packs were released on June 2011 and cost $2.99 each, an identical price when compared to their
virtual counterparts
. Each booster pack includes 7 game cards and 1 loot card, which can be redeemed for bonus items in Clone Wars Adventures. Box packs include a playmat, 21 Cards and 3 loot cards and cost $7.99 US. Topps is the company making the cards and they have added 7 digit identification codes to their trading cards, so players may track your trading cards on their website
www.topps.com
.
The official rules of the card game follow the same rules as on the online game.
Loot Cards
Edit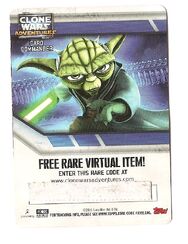 Loot cards that can be found from Card Commander TCG products can be redeemed on the Clone Wars Adventures website for a virtual reward. Each booster pack contains 1 loot card, while the Box set contains three. Loot pieces include the
Commander Bly
set, and
NO-8OT
.
Ad blocker interference detected!
Wikia is a free-to-use site that makes money from advertising. We have a modified experience for viewers using ad blockers

Wikia is not accessible if you've made further modifications. Remove the custom ad blocker rule(s) and the page will load as expected.