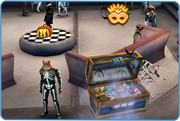 "It looks like you already have all the masks I made! I hope you don't play a trick on me now that I have nothing to give you!" -Creepy Crate Guy to players who have received both mask sets.
The Creepy Crate Guy is an NPC only seen in the Temple during Halloween while the Creepy Crate is around. He informs players when or if they can receive a free mask.
Ad blocker interference detected!
Wikia is a free-to-use site that makes money from advertising. We have a modified experience for viewers using ad blockers

Wikia is not accessible if you've made further modifications. Remove the custom ad blocker rule(s) and the page will load as expected.