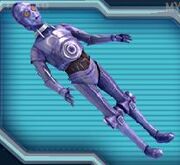 Got protocol? Don't get in caught in a diplomatic panic, so don't leave home without D-0T.

—Official description
D-OT is a droid Companion that can only be obtained through a promotional code from Emissaries in Clone Wars Adventures. Codes for D-OT can be received in multiple ways, including answering trivia questions at emissary events, having a house inspected by an Emissary, and numerous other ways at events.
D-0T resembles the purple protocol droid seen in the Clone Wars television series episode "Hostage Crisis". Because it is only awarded to a few players at select Emissary Events, D-OT may be the rarest droid in the game.
External links
Edit
Ad blocker interference detected!
Wikia is a free-to-use site that makes money from advertising. We have a modified experience for viewers using ad blockers

Wikia is not accessible if you've made further modifications. Remove the custom ad blocker rule(s) and the page will load as expected.