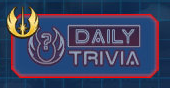 Daily Trivia
is a Daily activity, available for members only, that can only be played once per day. Daily Trivia asks five questions regarding the Clone Wars television series every time it is played. The key to receiving a high amount of credits is to answer the questions as quickly as possible without choosing wrong answers, for choosing wrong answers will deduct credits from the possible score. With good knowledge of the Clone Wars, players can earn up to more than

600. If you play 4 days in a row you get a double rewards game. Occasionally, a glitch will allow players to play it more than once a day.
Ad blocker interference detected!
Wikia is a free-to-use site that makes money from advertising. We have a modified experience for viewers using ad blockers

Wikia is not accessible if you've made further modifications. Remove the custom ad blocker rule(s) and the page will load as expected.