Count
Dooku
is a human male who was once a Jedi Master, and is now a Sith Lord as well as the public leader of the Separatists during the Clone Wars. His Sith name is
Darth Tyranus
. He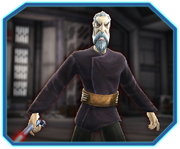 appears in several
mini-games
including
Card Commander
, Galactic Forces, and
Dark Side Duel
.
Galactic Forces
Edit
In Galactic Forces, Dooku is the Rank 3 Separatist Command post. He uses his Lightsaber and the Force to attack heavy artillery units.
Count Dooku
Edit
In these robes, Count Dooku proves that leaders can both malevolent and great by leading vast forces against the Republic.
— Store Description
On the 15 May 2011, SOE granted all players Count Dooku's boots and robes as an apology for the long server downtime.

Count Dooku's Boots
50

Count Dooku's Robes
150

Count Dooku's Lightsaber
200
Original Count Dooku
Edit
These are the dark robes worn by the fallen Jedi Master, Count Dooku, who is now a ruthless Lord of the Sith and mastermind of the Separatist movement against the Republic.
This gear is only available only through a promotion at Toys R Us. This outfit can only be obtained by purchasing the Star Wars R2D2 USB Flash Drive from participating Toys R Us stores. The flash contains many special extras, including the code to obtain Count Dooku's Original outfit. The Original Count Dooku outfit is almost identical to the standard outfit. The only difference is the color shade which cannot be seen in episodes underneath the cloak. The code for this outfit is TRUDOOKU.
| | | | | |
| --- | --- | --- | --- | --- |
| Count Dooku's Original Boots | Count Dooku's Original Robes | | | |
External links
Edit
Ad blocker interference detected!
Wikia is a free-to-use site that makes money from advertising. We have a modified experience for viewers using ad blockers

Wikia is not accessible if you've made further modifications. Remove the custom ad blocker rule(s) and the page will load as expected.