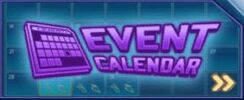 The
Event Calender
was a function added on September 16, 2011 to Clone Wars Adventures. The event calender is a calender that displays tournaments and
events
that are being held.
Tournaments
Edit
Once every day, a tournament takes place on the event calender. The tournaments change daily and will always consist of a pre-set minigame stage for games like Republic Defender and Attack Cruiser. The players goal is to obtain the highest score possible to reach the top 100 leaderboards. Players who successfully score among the top 100 players in the tournament will receive bonus prizes.
The top 100 scorers will receive bonus prizes including large sums of Republic Credits, Boost Points, and Furniture. The prizes you receive will depend on the type of medal you earn.
Community Events
Edit
On the 10 February 2012 update, Emissary Events were added to the calendar. By clicking on the "Go" button, you are teleported to the event.
Ad blocker interference detected!
Wikia is a free-to-use site that makes money from advertising. We have a modified experience for viewers using ad blockers

Wikia is not accessible if you've made further modifications. Remove the custom ad blocker rule(s) and the page will load as expected.