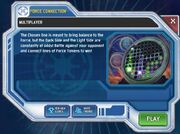 Force Connection is a single-player or multi-player mini-game in Clone Wars Adventures (similar to the game "Connect Four"), the objective of which is to place and align four Force tokens in a row either vertically, horizontally, or diagonally five times before the opponent does. Players are also given three power-ups, two of which can destroy opponent's tokens, and the other can switch tokens around. Lining up five tokens in a row grants players an additional power-up.
---
This article is a stub. You can help CWA Wiki by expanding it.
Ad blocker interference detected!
Wikia is a free-to-use site that makes money from advertising. We have a modified experience for viewers using ad blockers

Wikia is not accessible if you've made further modifications. Remove the custom ad blocker rule(s) and the page will load as expected.