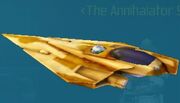 The Gold Jedi Starfighter is an exclusive vehicle that can be used in the game Starfighter. This vehicle was only given to the first five million registered users of the game on Febuary 21, 2011. In-game the starfighter has a gold paint job with a white design. A blue astromech droid can also be seen inside the starfighter's astromech droid socket.
Ad blocker interference detected!
Wikia is a free-to-use site that makes money from advertising. We have a modified experience for viewers using ad blockers

Wikia is not accessible if you've made further modifications. Remove the custom ad blocker rule(s) and the page will load as expected.