The hanger is a large room in the Jedi Temple where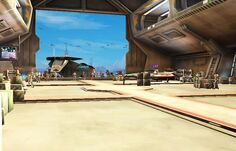 players debark for other planets. Sergeant Joker and Corporal Spanner can also be found here, and players can click on them to hear jokes Joker makes up, much to the dismay of Spanner.
Activities
Edit
Characters
Edit
Connections
Edit
Transport Offworld
Ad blocker interference detected!
Wikia is a free-to-use site that makes money from advertising. We have a modified experience for viewers using ad blockers

Wikia is not accessible if you've made further modifications. Remove the custom ad blocker rule(s) and the page will load as expected.