The
Homing Spider Droid
is a large Separatist walker unit that makes appearances in the games
Republic Defender
and
Galactic Forces
. It is tall, grey in color, and stands on four legs.
Galactic Forces
Edit
In Galactic Forces, the Homing Spider Droid is a rank 3 Separatist light armor unit. It has the ability to deal light damage to up to four units per shot. The Homing Spider droid is a great unit to use when the enemy has multiple infantry barracks, for it has an excellent advantage against stronger rank 3 infantry.
Compared to the
Tri-Droid
the Homing Spider Droid retains its similar slow movement speed, and has much lower stats. But when compared to its Republic counterpart, the
AT-PT Grenadier
, the Homing Spider Droid has a much faster firing rate and identical damage stats, making it superior in a one on one fight. The Homing Spider Droid preforms best in swarms because this makes up for its rather low damage; however, this can be difficult due to the droid's slow movement speed.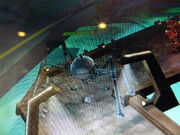 Ad blocker interference detected!
Wikia is a free-to-use site that makes money from advertising. We have a modified experience for viewers using ad blockers

Wikia is not accessible if you've made further modifications. Remove the custom ad blocker rule(s) and the page will load as expected.