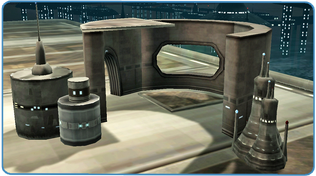 These construction pieces utilize the unique curved architecture of Kamino, allowing you to create stylish and intriguing structures of your own.
-Store Description
The Kamino Construction Set is a furniture set that was released on September 9, 2011. It was created specially for the release of the Kamino Lot and consists of basic housing construction materials, primarily curved walls and canisters, that are Kamino themed.
All items in the Kamino Construction Set require Station Cash to purchase
Ad blocker interference detected!
Wikia is a free-to-use site that makes money from advertising. We have a modified experience for viewers using ad blockers

Wikia is not accessible if you've made further modifications. Remove the custom ad blocker rule(s) and the page will load as expected.