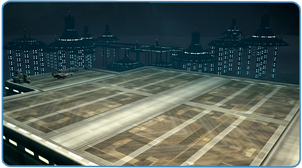 The watery world of Kamino is both watery and dangerous! This lot will help you create a strategically-placed and comfortable home!
-Store Description
The Kamino Lot is a lot that was added on September 9, 2011. It is identical in length and width to all other lots but is Kamino themed, appearing to resemble a typical platform on Kamino. It costs

300 to purchase.
Like all other lots, the Kamino lot does not have any pre-set elements, allowing a wide range of housing ideas. The Kamino Construction Set furniture set was released specially for this lot.
Ad blocker interference detected!
Wikia is a free-to-use site that makes money from advertising. We have a modified experience for viewers using ad blockers

Wikia is not accessible if you've made further modifications. Remove the custom ad blocker rule(s) and the page will load as expected.