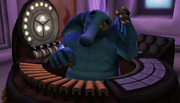 Max Rebo is a Ortolan musician who can be found in the Officers' Club performing on stage with two Bith.
Furniture
Edit
Take the party from the Officers' Lounge to your house with Max Rebo!
-Store Description
Max Rebo's DJ Set can be purchased for a total of 325 SC.
Ortolan Holoprojector
Edit
A Holoprojector of Max Rebo is available and known as the Ortolan Holoprojector. The price is 300 SC.
External links
Edit
Ad blocker interference detected!
Wikia is a free-to-use site that makes money from advertising. We have a modified experience for viewers using ad blockers

Wikia is not accessible if you've made further modifications. Remove the custom ad blocker rule(s) and the page will load as expected.