The
officers' club
was once available to only
Jedi
members, but is now available to all players. The dark room features Max Rebo's band playing, a bar, and arcade games.
Yoda
offers a
quest
to players, wanting players to battle
Wiffa Zett
on
Dathomir
. After the quest is completed, Yoda invites players to have fun in the officers' club.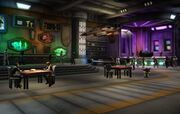 A damaged
Jedi starfighter
is hanging from the ceiling. Many trophies are on shelves.
Jar Jar Binks
was moved here after the February 25th update. He can be found dancing "Gungan Style"
Activities
Edit
Characters
Edit
Ad blocker interference detected!
Wikia is a free-to-use site that makes money from advertising. We have a modified experience for viewers using ad blockers

Wikia is not accessible if you've made further modifications. Remove the custom ad blocker rule(s) and the page will load as expected.