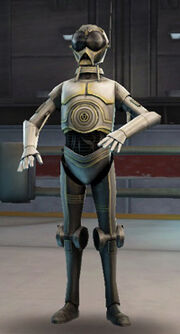 Redeem a code from McDonald's to get this Droid! -Promotional Description
RA-7 is a protocol droid that players can get as a pet. It was most likely based on a similar protocol droid in the Star Wars the Clone Wars movie. RA-7 can be obtained by entering a promotional code from McDonalds which is McPlayCWA. It appears to be based on the 4A-7 model. RA-7 gives the player an Elite Defense Up buff in the combat zones.
All protocol droid attachments are available for purchase for RA-7.
External links
Edit
Ad blocker interference detected!
Wikia is a free-to-use site that makes money from advertising. We have a modified experience for viewers using ad blockers

Wikia is not accessible if you've made further modifications. Remove the custom ad blocker rule(s) and the page will load as expected.