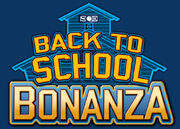 Students of all ages are heading back to school, and while we can't help you in the classroom with school supplies or the answers to your first quiz, we can make your afternoons just a little bit better. During the Back to School Bonanza, you can redeem pre-paid game cards for Double Station Cash®*!
-News Page Excerpt
The SOE Back to School Bonanza was a special event in Clone Wars Adventures where players could receive Double Station Cash over Labor Day Weekend between 12:01 AM PDT on September 2, 2011, and 11:59 PM PDT on September 5, 2011, when they redeemed any SOE Pre-Paid Station Cash Card or with any purchase of Station Cash (excluding SMS payments).
The special sale item for Star Wars: Clone Wars Adventures during the Back to School Bonanza was a Labor Day Giant For Construction Kit.
External links
Edit
Ad blocker interference detected!
Wikia is a free-to-use site that makes money from advertising. We have a modified experience for viewers using ad blockers

Wikia is not accessible if you've made further modifications. Remove the custom ad blocker rule(s) and the page will load as expected.