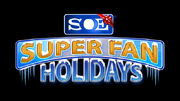 The
SOE Super Fan Holidays
was a special event in Clone Wars Adventures where players would receive special benefits from purchasing Station Cash and Jedi Memberships from 9am PST November 29 through 10pm PST December 3. During the Super Fan Holidays, CWA offered 25% off 5,000 and 35% off 10,000 Station Cash purchases online with a credit card or by PayPal.

If a player became a Jedi Member or upgraded to 3, 6, 12 month or Lifetime Membership if a player was an existing member, they would have received a free House Module. New and current Membership accounts that were in good standing on Dec 4th received an Ancient Bravis Sith Lightsaber with sparking crystal effect.

All Lifetime Jedi Member accounts that were in good standing on Dec 4th received the Ancient Bravis Sith Lightsaber and received the exclusive Ancient Bravis Sith outfit.
External links
Edit
Ad blocker interference detected!
Wikia is a free-to-use site that makes money from advertising. We have a modified experience for viewers using ad blockers

Wikia is not accessible if you've made further modifications. Remove the custom ad blocker rule(s) and the page will load as expected.