Savage Opress is a Zabrak dark acolyte, honed by Nightsister magic, and the former Sith Apprentice of Count Dooku. In Clone Wars Adventures, he makes appearances in several mini-games, including Dark Side Duel and Galactic Forces, as well as one of the player Holoprojectors. Several of his outfits are also available for purchase.
Apprentice Savage Opress
Edit

These are the robes a "Monster" needs to carry the brute strength and knack for destruction of Savage Opress!

—Store description
Savage Opress
Edit

More powerful than ever before, Savage Opress wore these robes after committing his life to the dark side of the Force!

—Store description
Vicious Savage Opress
Edit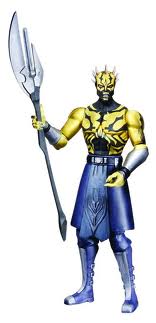 Vicious Savage Opress is the third variant of the Savage Opress outfit, and (being based on a Hasbro Clone Wars action figure), can be found in the
Hasbro Armory
. Like its predecessors, it is available for purchase with
Station Cash
.
This outfit was first introduced with the addition of the "Hasbro Armory" to the store, and is notable for being the first outfit where (male) players appear without a shirt.
Savage Opress Holoprojector
Edit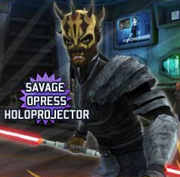 The Savage Opress Holoprojector is an Action that allows players to appear as Opress for a short time. It came out during the 19 August 2011 update and is the sixth Holoprojector available for purchase with Republic Credits.
External links
Edit
Ad blocker interference detected!
Wikia is a free-to-use site that makes money from advertising. We have a modified experience for viewers using ad blockers

Wikia is not accessible if you've made further modifications. Remove the custom ad blocker rule(s) and the page will load as expected.