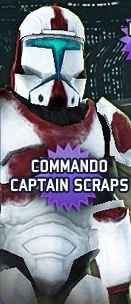 Commando Captain Scraps is an Outfit set that was added to the Clone Trooper Gear category on September 9, 2011. His outfit is colored with red markings and his helmet bears a blue visor. Commando Captain Scraps was not based on a character from the Clone Wars television series.
Ad blocker interference detected!
Wikia is a free-to-use site that makes money from advertising. We have a modified experience for viewers using ad blockers

Wikia is not accessible if you've made further modifications. Remove the custom ad blocker rule(s) and the page will load as expected.