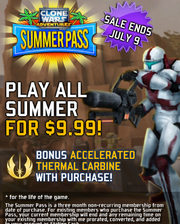 The
Summer Pass
was a special offer that was given out by SOE as a summer membership discount in late June 2011. The Summer Pass allowed free account players to purchase a membership for $9.99 that began at the time of purchase, and expired on September 11, 2011. The
Kashyyyk Lightsaber
was also included for free when purchased and given to lifetime members. The Kashyyyk Lightsaber can now be purchased for 64000
Republic Credits
. The Summer Pass returned in 2012 for a membership from June 8th to the end of summer. The weapon in 2012 was the Accellarated Thermal Cannon.
Ad blocker interference detected!
Wikia is a free-to-use site that makes money from advertising. We have a modified experience for viewers using ad blockers

Wikia is not accessible if you've made further modifications. Remove the custom ad blocker rule(s) and the page will load as expected.